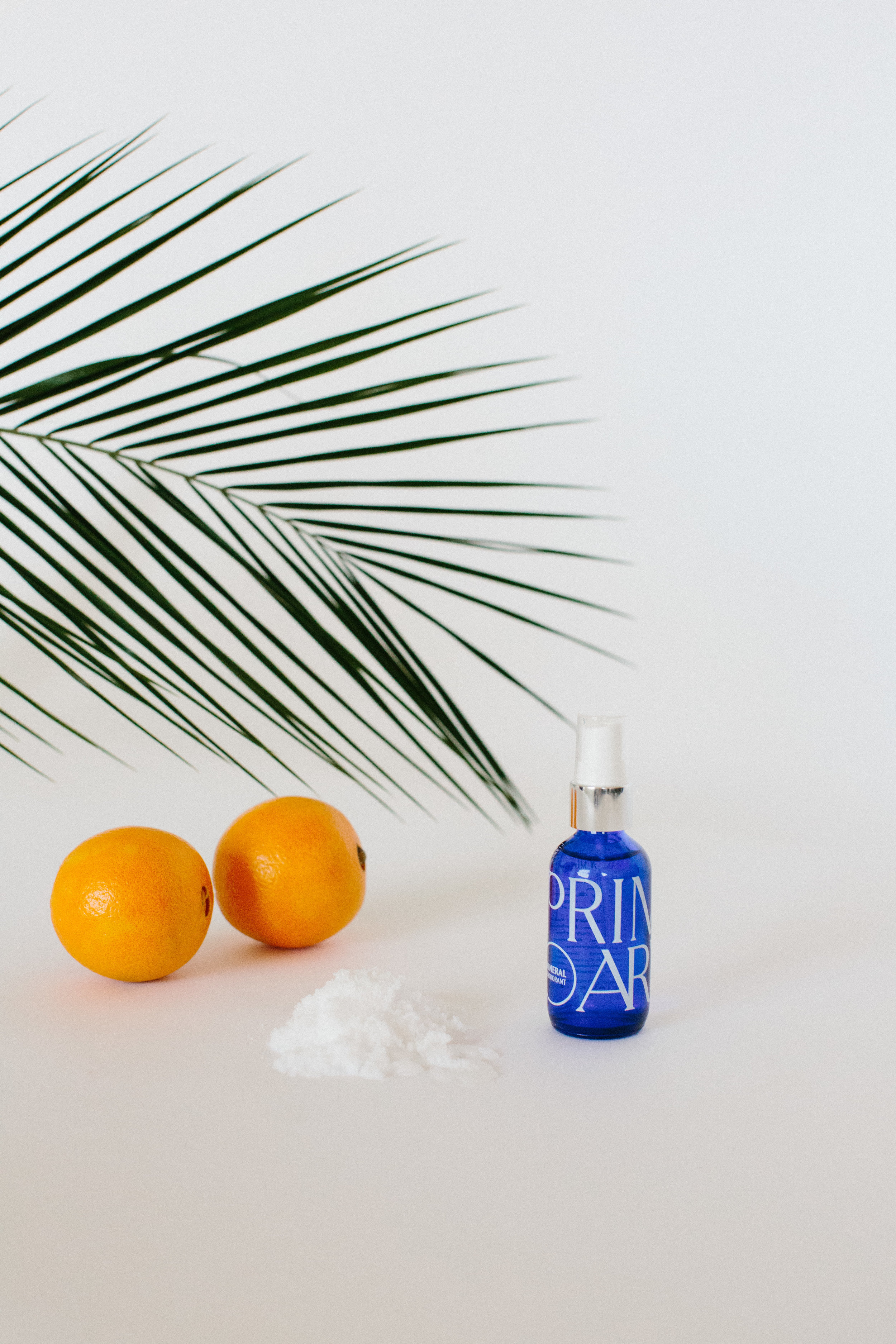 We have meticulously evaluated every ingredient in our formula - both natural or laboratory made - and only use those with a proven record of safety and efficacy. We've created this glossary to help you make an informed choice on what you put on your body and to help you understand our choices.
We believe in clean, effective, and 100% non-toxic skincare and continuously work to ensure each product we make includes only the highest quality ingredients available.
None of our products contain aluminum, ammonia, artificial colorants, chlorine, formaldehyde, glycol solvents, mineral oils, parabens, petrolatums, phosphates phthalates, silicones, sulfates, synthetic fragrances. We do not test our products on animals.
If you have questions about any of our ingredients you can contact Jessica here: jessica (@) primary-elements.com
Aloe Barbadensis Filet (Organic Aloe Vera Juice Extract) has more than 75 nutrients and 200 active compounds, including 12 vitamins, 20 minerals and 18 amino acids. Bonus, your skin absorbs Aloe Vera faster than water and in turn, Aloe Vera helps your skin retain its moisture. We use USA-grown, organic, cold pressed, whole leaf aloe vera that is never, ever tested on animals.
Ascorbic Acid (Vitamin C) nourishes the skin and helps to extend the shelf-life of our formula.
Cinnamomum zeylanicum (Cinnamon) Leaf Oil is a warm, spicy essential oil, derived from a tropical, evergreen tree that has highly fragrant bark, leaves, and flowers. We use a minute amount of Cinnamon leaf to take advantage of its properties without the risk of irritating delicate skin.
Citric Acid is naturally found in citrus fruit and gives them their sour sharp taste. We use it in low concentrations to preserve and stabilize the pH-value of our formula.
Citrus aurantium dulcis (Orange) Flower Extract comes from the blossoms of the bitter orange tree and are the same flowers that are used to distill Neroli, but produced using very different processes. Each flower is handpicked so that it isn't bruised or excessively handled.
Citrus Grandis (Grapefruit) Seed Extract is derived from the seeds, pulp and white membranes of a grapefruit. It is used in our products to extend shelf life and protect formulations against bacteria and fungus.
Citrus Reticulata (Tangerine) Oil helps to maintain healthy, smooth skin, and has a bright, uplifting fragrance. Within holistic aromatherapy applications, it is known to promote tranquility and a sense of well-being. It is often included in aromatherapy blends intended to help calm tension and anxiety.
Coriandrum sativum (Coriander) Oil has a very pleasant fresh, spicy aroma and is gently warming on the skin.
Cymbopogon martini (Palmarosa) Oil is a scented grass of the same family as Lemongrass and has a smooth, fresh, sweet-grassy, mild rosy-geraniol aroma, with delicate citrus zest top notes.
Hamamelis virginiana (Witch Hazel) Extract is distilled from the twigs and bark of the Witch Hazel tree (Hamamelis virginiana), and naturally soothes and cleans the skin without upsetting your natural moisture balance.
Jasminum officinale (Jasmine) Flower Extract has a warm, lovely scent with a peaceful alluring quality. The flowers must be picked at night before sunrise, adding to the oil's impressive allure.
Magnesium Chloride (Zechstein Sea) is a compound of the mineral magnesium, and the essential electrolyte, chloride. In the body, magnesium activates hundreds of cellular, biochemical reactions. The magnesium chloride we use is harvested directly from the Ancient Zechstein Seabed in Northern Europe, which is considered to be the purest and most pristine source of natural magnesium chloride in the world.
Polysorbate 80 is used as an emulsifier and a surfactant in pharmaceuticals, vitamins, cosmetics and food (often added to ice cream to make the consistency smoother). We use a small amount of food grade Polysorbate 80 to help the essential oils blend into the formula. The main concern with Polysorbate is the potential contaminant with ethylene oxide and 1,4 dioxane. The potential for contamination unlikely with the use of food grade Polysorbate 80. (This product is certified Kosher (Pareve) by the Orthodox Union)
Propanediol is a skin friendly preservative derived from the fermentation of corn sugar. It's considered a safe ingredient for both cosmetic and food products.
Rosa centifolia (Rose) Flower Oil is a very fine Egyptian rose oil extracted from the cabbage rose. Rose oil contains a complex array of vitamins, minerals, and antioxidants and has excellent emollient properties. The high price of rose oil is primarily due to the large number of petals needed to extract a tiny amount of oil but also due to the very high labour costs involved in the multi-step process of extracting the aromatic materials.
Santalum album (Sandalwood) oil in addition to having a beautiful, calming scent, Sandalwood helps cleanse and soothe the skin. (This essential oil was ethically sourced under the strict guidelines of the New Caledonia government Forestry Commission. For each mature tree cut, 5 seedlings are re-planted).
Tetrahydroxypropyl Ethylenediamine (THPE) works as a preservative and stabilizer, and can enhance the cleansing capabilities of personal care products. Pure zinc ricinoleate (see below) is a wax-like substance, and THPE activates and stabilizes the zinc ricinoleate. Environmental Working Group (EWG) ranks its health concerns as low.
Zinc Ricinoleate is the zinc salt obtained from castor seed oil. Works by absorbing odor molecules without interfering with the natural flora of the skin. (If you're wondering if zinc ricinoleate contains the toxic compound ricin, the answer is no—Ricin is water soluble and does not dissolve in castor seed oil! )
*Note: Our products are not dietary supplements and are not intended for use in the diagnosis, cure, mitigation, treatment, or prevention of disease. This product is not intended to affect the structure or any function of the body. If you require medical treatment, please seek a qualified medical professional.